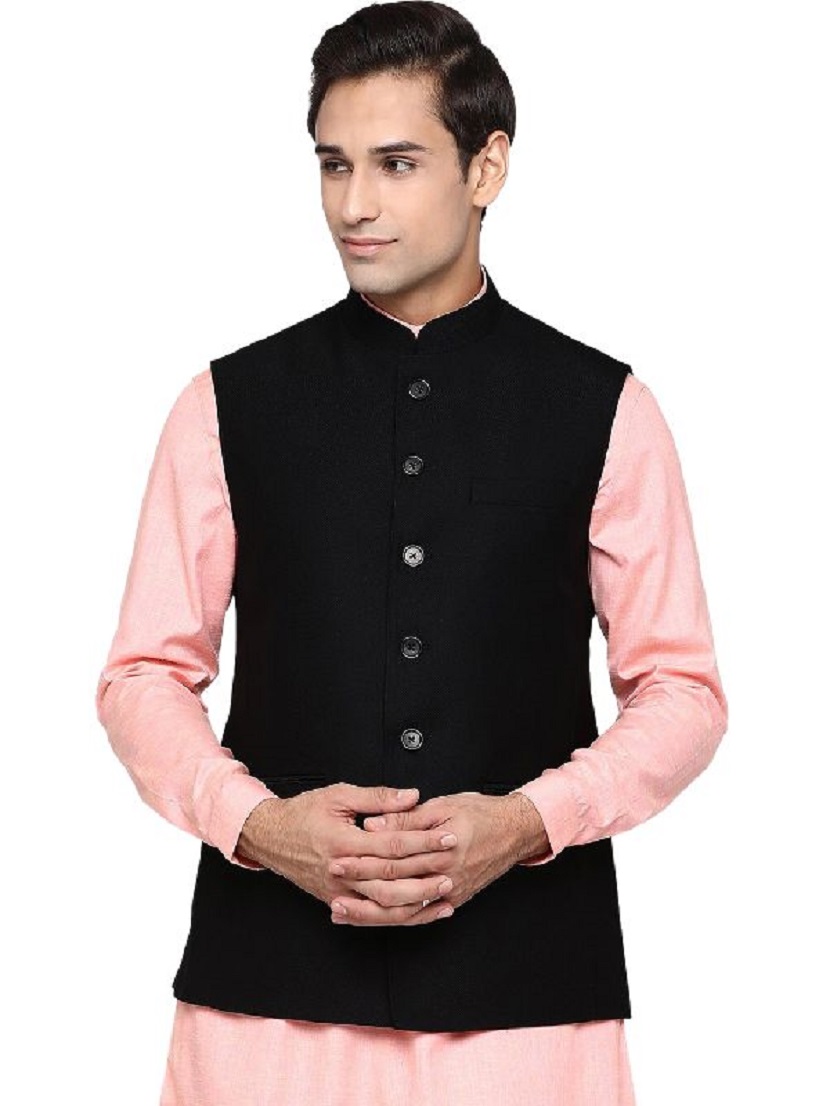 Are you not satisfied or happy with your looks for the upcoming wedding? Do you wish to try out something new for your cousin's wedding? Finding a dress shirt too plain? A blazer may appear too formal and give an awkward feeling. Well. If you are trying something special and unique, you can look for a Nehru jacket. No doubt, the right selection of color and fabric will take your look to next level.
Origin of Nehru Jacket
The Nehru jacket is considered an important design of the Jodhpuri where the stuff is often khadi means hand-woven cloth. The Jodhpuri style belongs to the Angarkha. Famed for the terms of Jawaharlal Nehru, these special Bandhgalas made from khadi remain admired to the day.
No doubt, the stylish jacket has gone through a wonderful phase of progress but their sense of customs and touch of royalty keeps the similar. The conventional Jacket has special features including a Mandarin Collar and front buttoned placket. Pandit Nehru used to keep pocket squares in a bright color along with a rose on his jacket. It gives a royal appeal to the clothing sense.
Shorter and Longer Version
At the time, Pandit Nehru commonly wore his Nehru Jacket with cotton and Silk kurta pajama. However, things have changed now significantly and different variations of these jackets coming out in the market so that there is no shortage of choices for men. One can easily purchase a jacket in short length which can be matched up with shirts and trousers to find formal attire. Moreover, a conventional medium-length Nehru Jacket with kurta pajama and juti is the most adored style for any kind of formal event among youth nowadays.
On the other hand, the longer version of these jackets is even known as a Sherwani or Jodhpuri. The basic front structures of the attire keep the same just the length turns something longer and comes to the sleeves. Some embroidery and embellishments are added to the attires to turn them suitable for weddings and more family events. One can even add a pocket square or even a pocket watch to the Nehru Jacket attire for a conventional Indian feel.
The piece of clothing is named after the celebrated leader in India who uses to wear this kind of jacket. Now, the Nehru suit and jacket are more than something you wear to look conventional. Moreover, the outfit is trendier as a form of Western wear with renowned figures such as musicians from the Beatles who had worn them.
The tradition of the Nehru suit and jacket is getting more popular day by day. The reason is simply as people now wish to try out something new and traditional. It is particularly appropriate for a wedding, anniversary, and pooja.
Diverse color options are available for the Nehru Coat
One can wear Nehru coats available in diverse color options. The common colors are black, grey, and beige. The matching pants create a stylish Nehru suit that you can wear for a formal and semi-formal event. Meanwhile, these are not just colors that you'll find Nehru jackets offered online. The buyers can have a look at the variety of jackets from brands such as Apex Tailor and Hriday. You can check special color jackets such as red, yellow, pink, and light blue. Moreover, the a stylish range of printed jackets that you can dress in with solid-colored shirts.
Choose a Comfortable Fabric
The fabric plans how causal or formal the Nehru coat appears. Men's Plain Woolen Nehru Jacket is made of heavy and natural material. The fabric is stylish and warm to get the best looks. One can wear these Nehru coats with dress shirts and formal pants to make a stylish Nehru suit. If you are trying this kind of dress for the very first time, you should go for something special. Woolen Nehru Jacket is a perfect choice for winter weddings and events.
Styles of Nehru Suits
However, by shopping for Nehru jackets online, you'll discover stylish Nehru jackets. They are designed to be buttoned up to the neck and are available in low V necks. The Nehru suits with pocket squares at the breast can create you look like a genuine gentleman. Meanwhile, the buyer has to make sure that the woolen Nehru coat always comes with a pocket on the left side.
If you wish to have a more formal look, you can choose a double-breasted jacket. Spend a few minutes having a look at the range of styles. The special Nehru jackets are offered online to purchase a jacket with simply the sort of style that you're searching for.
Therefore, if you don't have a couple of Nehru jackets in your cupboard, you can have a look at the wide range of Nehru jackets for sale online. If conventional searching Indian jackets are what you idea you'll discover in the collection of Nehru jackets for sale, you're in for a shocker. No matter, whether you wish for a Nehru jacket that you can wear with jeans or with prescribed dress shirts, you can shop online to discover a range of stylish designs that you can select from. Keep in mind that if it's too hot to wear a blazer, a Nehru jacket is considered the best choice that you have.
Impress your Guests
Impress everybody with your wonderful fashion sense by donning this Ethnic jacket. Designed with the cotton blend, this coat is planned to give sheer comfort and will make sure a perfect fit. You can wear the jacket over a shirt with chinos for a smart appearance.
Yet to say, a Mens Plain Woolen Nehru Jacket is compulsory for every man. It is special for the people who enjoy wearing his attitude up his sleeve. They focus on a simple yet magnetic style. So, the next time you fall undersized of formal and casual options to dress up for a dinner date or a family meeting, you can trust the traditional yet subtle Nehru Jackets to make your appearance quite stylish at the same time.