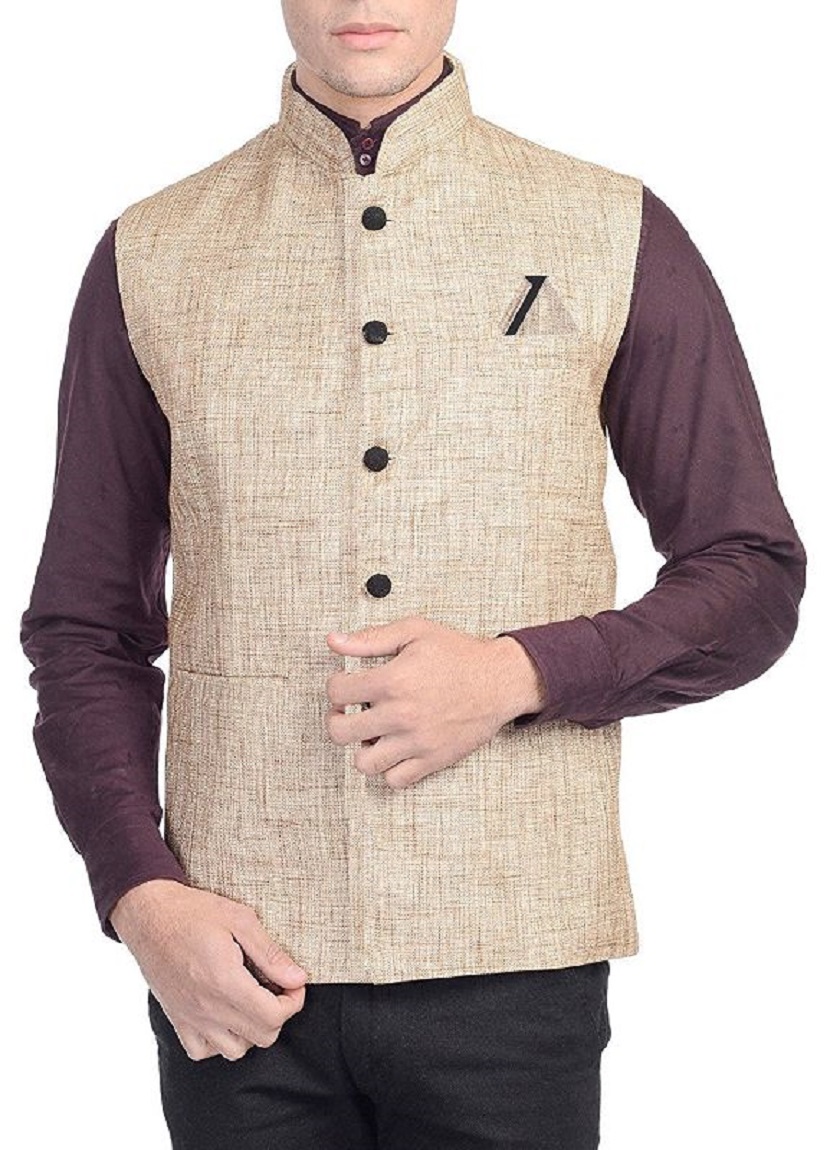 Males typically wear the Nehru Jacket, which is a hip-length coat or jacket. Like a traditional Achkan, Sherwani, or Bandh gala, it has a Mandarin collar and a button placket. This Nehru coat or jacket is named after Pandit Jawaharlal Nehru, India's first Prime Minister, who loved to dress in a Western-style Achkan. The collar and lapels are replaced by a front-button closure that rises to a high, round neckline with a small stand-up collar. It is developed from an Indian men's collar that may be trimmed with a tiny bend to create a well-shaped neckline, exhibiting the changing effect of Western tailoring on the collar.
The history of the Nehru jacket is fascinating. The concept of this jacket dates back to the pre-independence era and was designed in India in the 1940s. The jacket at that time was equivalent to a high social status. Only when the jacket is worn traditionally does it reveal its true essence. The Nehru jacket became a must-have item in any Indian man's wardrobe after independence. Even today that is the kind of respect that the mens khadi Nehru jacket commands. Achkan – a coat-like garment used by the nobles at high-end rituals – is another word for a Nehru-style jacket.
The Nehru Jacket's historical value is directly proportionate to its phases of change over time, and it merits its own place in history. With its origins as a shorter, westernized version of the Indian achkan/Sherwani, the achkan/Sherwani has evolved into one of the most significant emblems of non-alignment and democratic independence, as well as being synonymous with the Nehruvian identity in world politics.
With the genuine spirit of the Nehru jacket revealed as a historic powerhouse with a broadly variable spectrum of style and flair, its image was marketed as India's equivalent to the tie and tuxedo following independence. Regular allusions in movies, music videos, and other forms of mainstream media soon began to exploit the company's global reputation. Its adaptability and enthusiasm have weathered the test of time, even as novel alterations and traits emerge with time. Its effect on the 'bandh gala/closed neck' design pattern would eventually inspire various alterations in the fashion industry across centuries, with the popular turtleneck style following closely behind.
While it was first restricted to cotton and khadi, it gradually expanded its palette to include additional textiles, styles, colours, and designs. The vast range of options has made it a must-have for any Indian man's wardrobe, from classic turquoise blue to shallow beige, single structured to multi-variation, sleeveless to full sleeves. The Nehru jacket is India's official response to any and all situations, and its future is anticipated to be much brighter.
Thus with a strong fashion pedigree, it is not a surprise that there are many strong mens khadi Nehru jacket suppliers in the market. Vastraa Fusion is one such pioneer in the markets of Delhi. They manufacture, export and supply the best quality of mens khadi Nehru jacket in the market. One can trust them for their quality and sense of fashion as these are the two qualities that have made them a household brand.